Bangle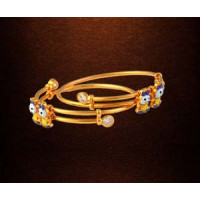 They are an absolute must-have for ethnic and fusion outfits. Kids bangles come in fun, elegant, and quirky styles. Whether kids wants gold bangles for the annual school event or the upcoming festival, we have the right kid's bangle set at Yeloo. From delicate bangles set to chunky embellished bangles, Yeloo has the best selection of kids bangles. The organised collection, coupled with reasonable prices makes online shopping for kids bangle an enjoyable experience. Shop for kids jewellery online on Yeloo.
Listed below are some tips on how to style different bangles with different kids' outfits:
For weddings and festivals, opt for bangles with attached

rings

for a glamorous look. These bangles act as a statement accessory.
When shopping for kids bangles in India, always choose a size that sits perfectly. A size smaller or bigger can cause discomfort to your kid's hands and irritate the skin.
Contrary to what many think, bangles can be worn with western outfits with equal grace as with Indian outfits. For western wear, opt for beaded bangles in fun, vibrant colours.
If your little girl loves funky accessories, opt for bangles with cute animal charms. You can also try out alphabet charms that spell out her name on the bangle.
For a put-together look, ensure the

necklace

, bangles, and other jewellery are in the same metal base.
Showing 1 to 5 of 5 (1 Pages)