Bracelet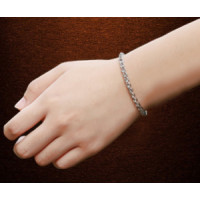 A woman can never go wrong with pretty silver bracelets. The word bracelet derives from the Greek word "brachile," which means "of the arm." Early bracelets were made of grasses, slender tree limbs, and shells, as well as copper and bronze.There is evidence that people in ancient Egypt, Mesopotamia, and China wore bracelets. Bracelets became more intricate and decorative after the Bronze Age, when jewelry was a symbol of status and wealth. Bracelets were made of silver and silver, and adorned with stones and shells.
Bracelet in modern life
Today, silver bracelets are created from a wide variety of materials and are typically embellished with gemstones, crystals, metal, and pearls. They are designed to fit all lifestyles and genders.
The most classic look is a simple black dress with a silver or a silver bracelet. You can also pull out a classic look with a matching bracelet and earrings set. Add on a timeless matching statement necklace or a Swarovski crystal bracelet and turn the heads around wherever you go. Finding the bracelet that fits perfectly on your wrists is as important as finding a beautiful bracelet. It should comfortably fit on your wrists. If a bracelet is too tight, your wrists will look big. Similarly, if your bracelet is too big, it'll be problematic and annoying to you. No matter how beautiful the bracelet is.