Earrings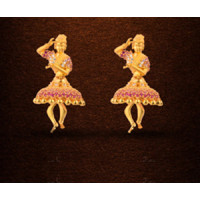 Gold earrings have always been so elegant and attractive. The warm gold color and based on their design these jewellery pieces could highlight your best features and compliment your look in a way you want it. Gold is an eternal metal that stands for richness and prosperity. You can bless yourself with all the positivity in the world with our intricate gold earrings that can make all your outfits extraordinary & stylish by styling it with gold earrings. The only thing you need to ensure when shopping for gold earrings is that you opt for reliable and reputable brands that value your money. Yeloo provides you with authentic metals carved in phenomenally stunning designs worth a lot more than their actual price!
Office Wear Gold Earrings
Most women prefer simple, understated jewellery that they can wear to work. They look classy and complement your elegant work attire yet add that touch of femininity to the whole ensemble. There are simple 14KT gold earrings with geometric designs and colourful stones adding to their beauty. Understated rose gold hoops bring a touch of softness to your face and bold studs with precious gemstones that look perfect adorning the ears of a boss lady.
Simple Daily Wear Gold Earrings
Ask any Indian woman, and they'll tell you how incomplete an outfit feels without jewellery. But young women who travel to college and work every day are often hesitant to put on bulky, traditional designs. That's why we've created our daily wear gold earrings designs to be classy, modest and sophisticated. From light weight diamond earrings to quirky drop earrings, you wouldn't think twice before wearing these designs on your jeans or dresses. And the best part is that they fall under an affordable price range. The earrings include infinity earrings with glittering diamonds, colourful drop earrings and simple star-shaped studs.