Bangle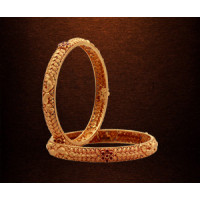 Indian Gold Bangles are a fine example of art, culture and skills, all three coming together & in sync with each other. Traditional gold bangles have been a part of Indian heritage since the very beginning, even though the forms have become more refined and modernized in today's day and time. Gold bangles are the earliest jewellery to hit Mankind and bedazzle them by its enthralling charm. Bangles also hold a great significance for married women and daughters of India.
Clunking noise of bangles are believed to attract positivity and health for the family. It also symbolizes happiness, health and prosperity of the marriage. Bangles are cherished by women and girls across the globe simply for how elegantly bangles prettify their wrists. Bangles can be just a single Kada or bracelet or even a Set of Bangles, it can be heavy and intricate or subtle and fashionable.
Bangles go decorous with all sorts of outfit right from business casuals to traditional, you can play as per your desire when it comes to the styling of bangles with your outfit.
These wrist clinchers have trekked their way through history and found a comfortable spot in the modern Indian wardrobe, making bangles the ultimate women's accessory!