Men's Watch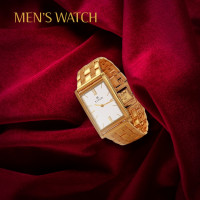 Seen as a status symbol of having "made it" a gold watch speaks for itself.There are plenty of gold watches for men that are two-tone for those on more of a budget or white gold & platinum for someone who wants to be a little more discreet and subtle. Men's gold watches not only act as a status symbol but also provide a sense of luxury to the men wearing men's gold watches. Men's gold watches are classy, elegant & quintessential fashion item. Whether worn for purely functional purposes or used to elevate an outfit, the benefits of wearing a gold men's watch is always a good idea. Measuring your wrist in order to discover your ideal watch size is essential.
There are two easy ways to measure the size of your wrist. The first is to wrap a tape measure around your wrist and take the measurement that way. If you do not have a tape measure handy, there is a simpler, albeit less precise method, to take your measurement. By wrapping a dollar bill, which is six
inches long, around your wrist, you can estimate by the amount of coverage it gives you what your wrist size is. Following our guide, wrist sizing works roughly like this:
6 inches: Cases around 34mm - 38mm.

7 to 7.5 inches: Cases around 39mm, 40mm, and 42mm.

8 inches and larger: Cases between 44-46mm, or even 47mm.
Additionally, we recommend the following dimensions for band size:
6.0 - 6.5" wrist or 150 - 164mm = 120/70mm

6.6 - 7.0" wrist or 165 - 178mm = 125/75mm

7.1 - 7.5" wrist or 179 - 190mm = 130/80mm

7.6 - 8.0" wrist or 191 - 203mm = 135/80mm

8.1 - 8.5" wrist or 204 - 216mm = 140/85mm

8.6 - 9.0" wrist or 217 - 229mm = 145/90mm
There are no products to list in this category.