Belt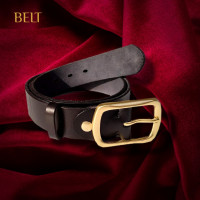 Belts figuratively (and quite literally) keep our outfits together, providing that finishing touch that either makes a statement or compliments our country's look. Whether a gentleman looking for a belt that will keep your suit trousers in place during the business day or a lady wanting a stylish waist-cincher to shape your dress, there is a belt for every country lover. Regardless of occasion, smart or casual, a belt should always be fitted to the middle hole. The standard method for measuring belts is from buckle to the middle hole. The belt you wear has to follow the three primary requirements. Thickness, color and material in this order. When it comes to formal attire, wear a thin belt. The thicker belt can be reserved to be worn with denim or cargos in a more casual environment.
When choosing a belt to wear with tailored trousers, or a suit, less is more. Stick to plain, simple classic styles in black, or brown leather. Match your belt and shoes, briefcase or leather accessories, and watch strap too if you can also get extra style points for matching belt buckle finish with your watch. A good belt not only adds an extra touch to your look, but also helps define your silhouette.
There are no products to list in this category.