Anklet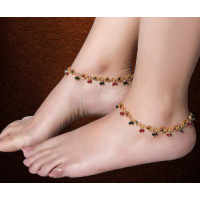 The anklet can be said as a bracelet for the feet, worn around the ankle like a chain. Gold Anklets or ankle bracelets can be worn with both traditional attires as well as with day to day, casual outfits. They are mainly worn with outfits like saree.
Anklets for married womens
The most elaborate gold anklets are those worn by brides on their special day. Part of the sixteen necessary decorations for a bride, these are usually quite thick with multiple layers of chains and adorned with myriad embellishments, from stones, pearls and beads to bells, shells, gems or Kundan work. Meenakari, the technique of creating colorful enameled designs on metal surfaces, is frequently used on anklets to add another element of color and beauty to the bridal look.
Anklets for all time
The ultimate in accessorising, the gold anklet, or ankle bracelet as they are sometimes called, is very alluring. With a certain bohemian quality, simple anklets with single chain can look both casual in a relaxed beach-party-look kind of way but shouldn't be underestimated as they can be dressed up for a much more formal occasion with a simple, but beautifully elegant, design
Showing 1 to 2 of 2 (1 Pages)