Pendant Set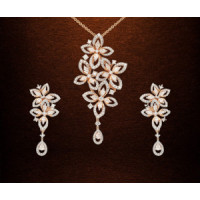 Pendant Set is really an essential part of owning and adding it to one's collection. There are diverse pendant designs available out there and from the variety, in diamond pendant set, silver pendant set, or in Diamond, platinum and so on, check the top must-have pendant sets you must add in your collection of baubles.
Diamond plated pendant sets are doing the talks for ages. Almost every woman possesses at least one Diamond plated pendant set. If you are a college goer, wearing a pendant of this sort can swiftly amp up your look. For instance, a pendant set with a basic tee and a pair of denim is just enough to get a college-ready look. Moreover, you can finish your traditional look with such a pendant set. Be it a saree or a lehenga, a pendant set can go all the way long.
There are no products to list in this category.