Bracelet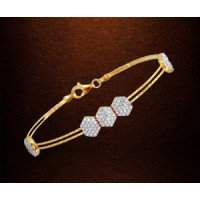 Gold bracelets
Bored of wearing only gold watches on your wrists when you go out to office, parties, weddings or casually at home too? Set a subtle fashion statement and accentuate your look to become more charming, elegant, stylish & modest with your ideal wrist-partners from Yeloo – Gold Bracelets. When your neckline and earlobes are given the privilege why not decorate your cuffs with classy, trendy and modern gold bracelet designs from Yeloo.in apart from gold watches. You can find a combination of varied type of gold bracelet for women here like – designer bracelet, bossy kada type bracelet, valentine's day bracelet, stone bracelet, 22k gold bracelet, gemstone bracelets, tiger eye bracelet and cuban link bracelet. If you are not a person who gives it up for rigid stuffs like gold bangles or designer bangles, then you can go in for such pleasant, flexible gold hand bracelet designs.
Origin & history of bracelets
Did you know that bracelets were used as arm guard by archers in olden days? Bracelets have been in existence from centuries back nearly 70,000 years before and have been found in many civilizations like Mayan, Roman, Indian and Mauryan. Can you believe that an enchanting green stone bracelet was made by a paleolithic man and he truly is a challenge to the known level of technologies today? Even the history of Egyptians inventing bracelet has reached a doubt factor after this finding.
Cherished ornaments: gold bracelet designs for women!
Make and not break your daily outfit with the right choice of gold bracelet design and set a statement leading to an extra oomph factor. Pick up to mix and match from tennis bracelets, charm bracelets, beaded bracelets, cuff bracelets, bangle bracelets & pearl bracelets. You can find never ending, timeless styles and designs of ladies' bracelet gold @ Yeloo which will become your favorite ornaments forever. We have an unmatched craftsmanship from multiple brands and manufacturers who can do even customized gold bracelets for you if you share your taste with us. The only thing you need to consider here is that the gold bracelet price varies according to the purity of gold used in making it like 14kt, 18kt or 22kt. Don't forget to place your online orders as daily wear simple gold bracelet designs for ladies has become a must wear amidst alpha, beta and gamma women of today.
Special gold kada design for ladies
If you wish to wear a gold jewellery that truly reflects your personality, then the independent women would choose to wear these gold kadas from Yeloo. Giving you a bossy look, it helps to commemorate your special memories and every piece is so special with unique designs here. Gold kada for women are terrific for layering and suitable to be styled in numerous ways suiting your preferences. We have both hi-fi / hi-tech and simple gold kada design for ladies which gives you a gorgeous or minimalist look according to your needs.
Best gold jewellery stores online
There are only a few jewellery stores who meet both your fashion and quality needs. We are proud to call ourselves one among those with a wide-range of gold jewellery manufacturers clubbed together at one market place for you. Yeloo is the first vertical marketplace for gold jewellery online world-wide and trustworthy too. Purchase latest gold bracelet for men and women here and get hassle-free, quick and safe delivery at your doorstep.