Exquisite 22KT Gold Navarathna Bangles for a Timeless Beauty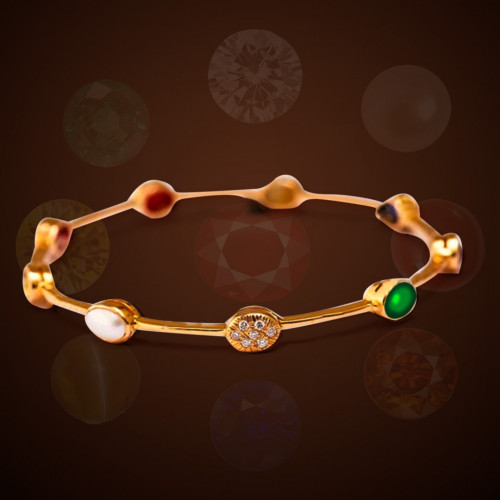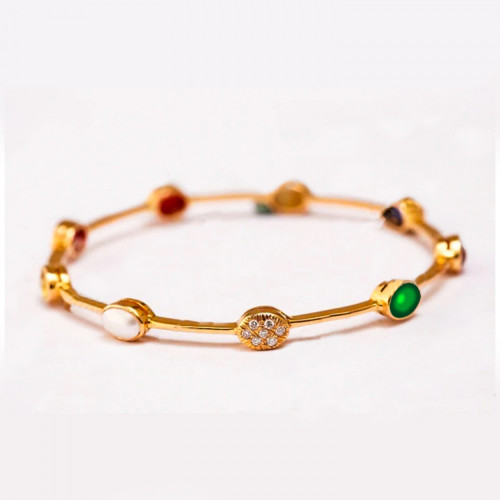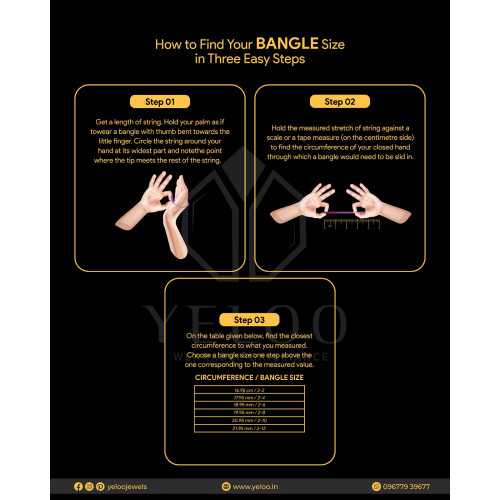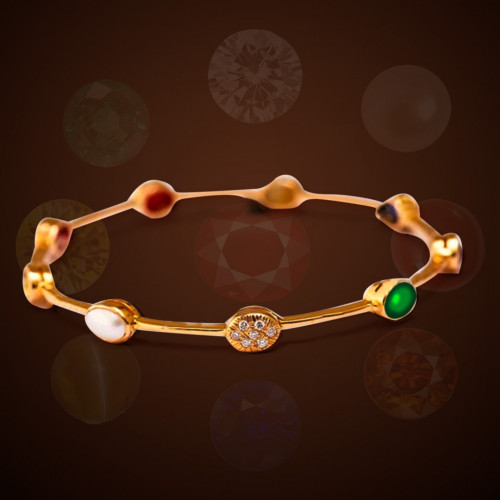 Product attributes
Gross Weight(Grams)
38.000
Product Details
Bangle Size
2.4
Exquisite 22KT Gold Navarathna Bangles for a Timeless Beauty
Introducing our exquisite collection of 22KT Gold Navarathna Bangles, crafted with precision and passion to enhance your beauty and embrace the rich cultural heritage of India. These bangles are a perfect blend of traditional craftsmanship and contemporary elegance, making them a timeless addition to your jewelry collection. Each bangle is meticulously handcrafted by skilled artisans, ensuring the highest quality and attention to detail. Made from 22KT gold, these bangles possess a rich golden hue that radiates warmth and sophistication. The gold is carefully molded and polished to perfection, resulting in a smooth and lustrous finish that catches the light with every movement. The highlight of these Navarathna bangles lies in their captivating gemstones. Adorning each bangle are nine auspicious gemstones representing the celestial bodies, namely Ruby, Pearl, Emerald, Yellow Sapphire, Diamond, Blue Sapphire, Hessonite, Cat's Eye, and Coral. These gemstones are believed to possess powerful energies and bring good fortune, making these bangles not just beautiful accessories but also a symbol of positive vibes and blessings. The vibrant gemstones are meticulously selected for their exceptional color, clarity, and brilliance. Each stone is carefully set in a secure and aesthetically pleasing manner, ensuring that they remain intact even with daily wear. The harmonious arrangement of the gemstones creates a mesmerizing visual appeal, adding a burst of color and sparkle to your ensemble. Our 22KT Gold Navarathna Bangles come in a variety of designs to suit different tastes and occasions. From delicate and intricately detailed patterns to bold and statement-making designs, there is something for everyone. Whether you prefer a classic and timeless style or a more contemporary and trendy look, these bangles can effortlessly complement any outfit, be it traditional Indian attire or modern Western wear. Wearing these bangles not only enhances your beauty but also serves as a celebration of tradition and culture. They make a perfect gift for yourself or a loved one on special occasions such as weddings, festivals, or birthdays. These bangles are not just a piece of jewelry; they hold a deeper meaning and carry the rich legacy of Indian craftsmanship and spirituality. Invest in the elegance and symbolism of our 22KT Gold Navarathna Bangles and embrace the splendor of Indian tradition. Each bangle is a masterpiece that tells a story, a testament to the timeless beauty of gold and the enchantment of gemstones. Shop now and indulge in the luxury of these breathtaking bangles that will be treasured for generations to come.

Gold Purity: 22k
Gold Price: ₹192,816
Stone Price: ₹36,000
VA: ₹42,420
GST: ₹8,137
Estimated delivery time: 3-7 days
Stock:

In Stock

Model:

SASBANGLE002

Weight:

36.00g

SKU:

SASBANGLE002
What makes us Trustworthy?